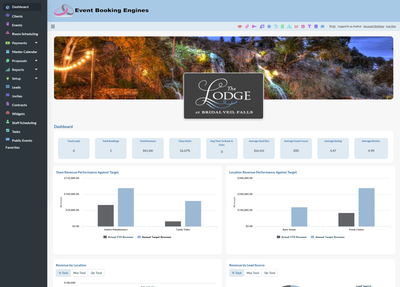 Elevate Your Event Management to a whole new level!
Event Booking Engines is a cloud based Event Booking Platform for Venues, Hotels, Restaurants, Caterers and Hospitality Groups.
Our feature set is very advanced, yet incredibly easy to use. Our product is an Event Based CRM at its core, with many features, automations and plug ins for your website which are all designed to save you time, increase revenue and reduce cost. Our features and benefits are listed below, along with our many product integrations and the customer pain points we directly address. You will also find our target markets, some of our many customers and testimonials and some sample screen shots and videos here as well.
Our Venue Management Software Platform provides tremendous value for the money. We say that without hesitation, after spending hundreds of hours reviewing competitor offerings, many of which have been around for decades and certainly look it. And don't take our word for it, you can validate what we say via our testimonials and reviews. We have also spent many thousands of man hours designing and building a platform which has far greater feature breadth and depth than the usual suspects. Combine that with a pricing model which scales based on your needs, continuous market driven product development and outstanding customer service and support and the end result is a truly outstanding product and service combination.