Welcome to the Revolution in Event Management Software
Elevate Your Event Management to a whole new level!
Event Booking Engines provides Event Booking software for Venues, Restaurants and Hospitality Groups.
Our software is completely cloud based and our feature set is very advanced, yet incredibly easy to use. Some of our features are listed below, along with some of our product benefits and the customer pain points we directly address.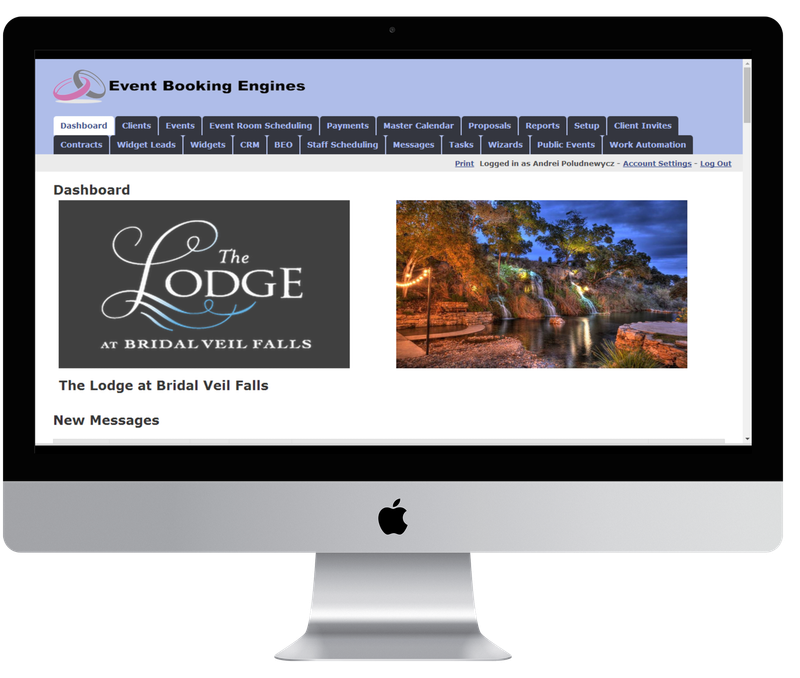 Stripe Payment Gateway
Stripe for Online Payments
QuickBooks
QuickBooks for Accounting
FreshBooks
FreshBooks for Accounting
MailChimp
MailChimp for Email Marketing
Constant Contact
Constant Contact for Email Marketing
ClickSend
ClickSend for Automated SMS Messages
Lead Bot
Our own proprietary technology for Automated Lead Transfer
Sync Mobile Calendars
Sync our Master Calendar to your Google, Outlook or iCal Calendar
Email Integration
Gmail, Outlook, Yahoo and Others
Export Reports to Excel
Export any of our Displays or Reports to Excel
Embed Our Widget Plug Ins
We offer many Widget Plug Ins for Your Website
Time Savings
You will save enormous amounts of time you currently spend scheduling and managing your events calendar, preparing proposals and contracts, sending them by email, managing and collecting payments and manually tracking your leads.
Increased Revenue
Your revenue will increase through improved close ratios, better lead management and follow up, better quality proposals and contracts, reduced late payments and a greater number of immediate payments.
Reduced Cost
Your costs will be reduced. This includes costs associated with trips to the bank to deposit checks and mailing or emailing contracts. You will also see time savings and cost reductions from a tightly integrated events calendar, proposal, contract, lead management and online payment system.
One Tightly Integrated and Shared System
You will see a reduction or elimination of the need for multiple products you may be using today. Many of our customers previously used 3-6 products or more for lead management, calendar, contracts, payments, proposals, etc. and spent large amounts of time and money on all of them. We provide a single, tightly integrated and shared system for all of the above.
Improved Cash Flow
We will improve your cash flow through an increased number of online payments with faster payment times, a reduced number of late payments and a greater number of closed deals with shorter sales cycle times.
Increased Client Satisfaction
You will see drastically improved turnaround times and quality levels for Calendar Scheduling, Proposals, Contracts, Lead Follow Up and Payments. We also foster and provide better and faster client/venue collaboration and support problem/issue resolution during the life cycle of an event.
Manual or Spreadsheets
Your Event Booking is currently manual or you are using spreadsheets. This causes many problems, some of which are: missed scheduling, lack of follow up on leads and clients, double booking, lost deals, unhappy clients and late payments.
Payments Only
You are currently using a Payments Only solution like Square or PayPal but you need many more features than just Payments alone.
Desktop Based Solution
You are currently using a Desktop Based Solution which cannot be shared by multiple users.
Legacy Based Solution
You are currently using an old and antiquated software product with Pre-Internet architecture and a terrible UI.
No Integration to Your Website
Leads come in via your website but they need to be manually re-entered into your current system. This causes errors and duplication of effort. It also causes slower lead follow up and lost deals.
No Online Payments or Contracts
You currently have no ability to do Online Payments or Online Contracts. Your clients are asking you for both.
Not Event Based
Your current software is not event based. It feels like you are constantly trying to fit a square peg into a round hole.
Lack of Good Reporting
Your current solution does not provide good Reporting or Analytics. You are not informed on critical business metrics and you feel like you are flying blind.
Old Technology
Your current solution is old technology which is not Mobile and Tablet friendly. And the UI reminds you of an Excel spreadsheet circa 1994.
No Integration to Your Current Products
No integration means duplicate data entry, errors and wasted time. We eliminate them all and protect and enhance your critical business applications with tight integration to QuickBooks, Xero and FreshBooks for Accounting and MailChimp and Constant Contact for Email Marketing.
Conference and Event Centers
Single and Multi-Location Restaurants
Colleges and Universities
City and State Owned Facilities
Event Booking Engines hands down has the best support I've seen in quite some time. I've tried different software products and this one is a great fit for my needs. I also like the online calendar feature the most. It's a great sales tactic to potential clients. Gives them a sense of urgency to book as soon as possible or their date may be gone. I have increased sales directly from using this product. I can easily track leads and export to my sales team to make calls and follow up with clients. The support is amazing. I love the online calendar feature and it does not cost an arm and a leg for it. The only other software company I found that offered an online calendar costs thousands of dollars and that is way out of our budget for software.

Angela Jenkins White: Venue Director, JW Event Suite, Atlanta, GA
Event Booking Engines is powerful and it's a complete, all-in-one booking system. Previously, I had to use multiple different systems to coordinate bookings, and it was a nightmare. Now I can do it all in one database. A lifesaver. Andrei and his team are fantastic about making updates, implementing customer suggestions, and squashing bugs quickly if they come up. I've been nothing but impressed by Event Booking Engines so far. Overall: This, plus QuickBooks, represents all I need for my back office systems. It's made my life 100x easier by keeping all of my data in one place. Plus, the embeddable contact forms and calendars for my website are invaluable.

Gregory Crafts: Owner, StageCrafts LLC, Los Angeles, CA
I like the Widgets for our website the most. We have installed the Lead Form, Calendar and Client Portal Widgets and our clients love them! Event Booking Engines Customer Service is fantastic...very fast and personal. This product greatly streamlines and improves the communication process between us and our clients. Overall: Great time saver for the interaction between our staff and our leads/customers and a huge improvement in the quality of that interaction!

Vanessa Oatman: Venue Director, THJCA Event Center, Tampa, FL
Event Booking Engines has helped us streamline management of 3 historic theaters in Chicago. The calendar is a breeze to use. Quick access on mobile too. Keeping track of past, present and prospective clients for future marketing is a big plus. File uploads (ie. riders, flyers, rentals) is a big plus as well. The system is very intuitive and streamlines the flow of event booking and management. It has been a great time saver for us.

Charlie Burns: Venue Operator, The Portage Theater Group, Chicago, IL